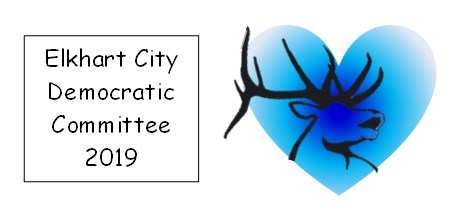 The Elkhart City Democratic Committee (ECDC) is the endeavor of Elkhart Dems to work together for a strong City community.
We will begin focusing on the 2019 Municipal Election.
Our purpose is to form a cooperative effort between Democratic candidate campaigns. We can do much more by pooling time, energy, experience, and tools to support each other. ECDC will serve to coordinate the efforts of campaign helpers for efficiency in outreach endeavors.
The work of this committee will include a City candidate orientation program that will provide guidance regarding campaign strategies, tools, and regulations specific to our City.
Plans have begun for raising funds that will be made available to participating candidates, The ECDC was adopted by the Elkhart County Democratic Party (ECDP) Precinct Committee Chairs May 18, 2019 as an official committee of ECDP.
We welcome folks, who are interested in supporting our candidates by helping out with campaign events and activities, to join our Facebook group page on the Elkhart County Democratic Party page.
Elkhart City Democratic Committee
Central Committee
Bruce Carter - Chair
Karen Okazaki - Vice Chair
Angela Davis - Secretary
Doug Mulvaney - Treasurer