Events
Sun Jun 11 2017 4:00 PM to 6:00 PM
pin Hide Map Fairfield Inn & Suites Elkhart 3501 Plaza Ct, Elkhart, Indiana 46514 Elkhart , IN 46514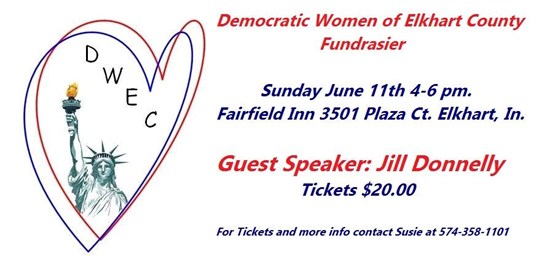 ---
Sat Jun 17 2017 9:00 AM
3800 Mishawaka Road E Elkhart, IN 46517
What: Monthly Business Meeting of the Elkhart County Democratic Party
Where: Martin's Super Market on Mishawaka Road, across from the Concord High School. Enter at the deli end. There are two elevators and a set of stairs to get to the second level. Handicap-accessible and lots of parking!
---
Wed Jun 21 2017 11:30 AM to 1:00 PM
Ivy Tech Community Center, 22531 CR 18 Goshen, IN 46528
Guest Speaker:Curt Nisley, District 22 State Representative
Join us for an optional lunch from 11:30 am until noon and enjoy our guest speaker from noon until 1 pm.
$11.00 for Buffet Lunch (payable by cash or check)
Please call/text/email Tanzie Nielsen at (574) 333-8888 / tanzie@comcast.net to reserve your space. When you RSVP, please indicate if you are requesting lunch or not. If you make a reservation and fail to attend, you will be invoiced for the full amount. Please RSVP by the Monday prior to the meeting.